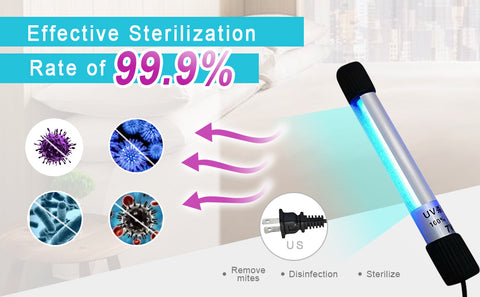 Main Features
U-V Disinfection Light : There are a lot of invisible dirty things in life. They exist on mobile phones, remote controls, towels, children's toys, elevator buttons, doorknobs, toilets etc. Environmentally friendly, UV-C is a natural ger-micidal light, we can use our ultraviolet light to eliminate them and keep our life safe.
High Efficient : Small size, light weight and easy to carry. Suitable for many occasions, such as bedroom, kitchen, shoe rack, bathroom with shower, children's room, pet room, toilet, school, hotel, etc.
Durable & Safe : Ultraviolet Light tube, made of explosion-proof quartz glass, durable and not easily damaged. Mercury tube with silver foil reflective film for the UV rays enhance and improves cleaning efficiency.
Operation Guide : Such as masks, hand masks, socks, panties and other small items, slowly swiping close to the object, you can go back and forth 2-3 times, it takes about 14 seconds. It helps to quickly and effectively remove the thing on the surface.
Specifications
Installation: vertical
Wavelength: 254 (nm)
Current: 0.05 (A)
Voltage: 110V / 220V
Waterproof rating: IP65, can be put in the fish tank.
Service life: 80,000 (H)
Appearance size: 235 (mm)
Installation interface: two-pin flat plug
Access certification: 3C certification
Packing List
1 * Hand-held Sterilizer
Note:
Do not look directly at the UV source and avoid direct exposure of U-V rays to people, animals and plants, otherwise the ultraviolet rays will burn the skin. When the lamp is lit, will immediately have a special smell comes from burnt harmful smalls by UVC rays, this is normal.